Project Health Monitoring: 10 Dimensions.
Keeping track of project health is essential to all involved members and stake holders. Using the right questionnaire is key.
The Prommpt project health monitoring module keeps track of project health and documents it along the way so you can keep track of it throughout your project execution.
Prommpt keeps track of 10 dimensions in project management though questionnaires for each dimension:
Project Scope
Project Timings
Project Costing
Project Quality
Project People
Project Communication
Project Risk
Project Procurement
Project Management
General considerations
The project health check module is a support tool that allows you to make a health assessment based the user's appreciation of the current project status. The health check module renders a percentage score that indicates the maturity of planning across the various project dimensions. Normally a project starts with a relatively low score, which will grow as the planning and project matures.
The health check is also a useful tool for the project planning process because it guides you through the important project dimensions that need to be addressed in time and helps you to focus on elements that require additional attention.
The project health area provides with the following instruments: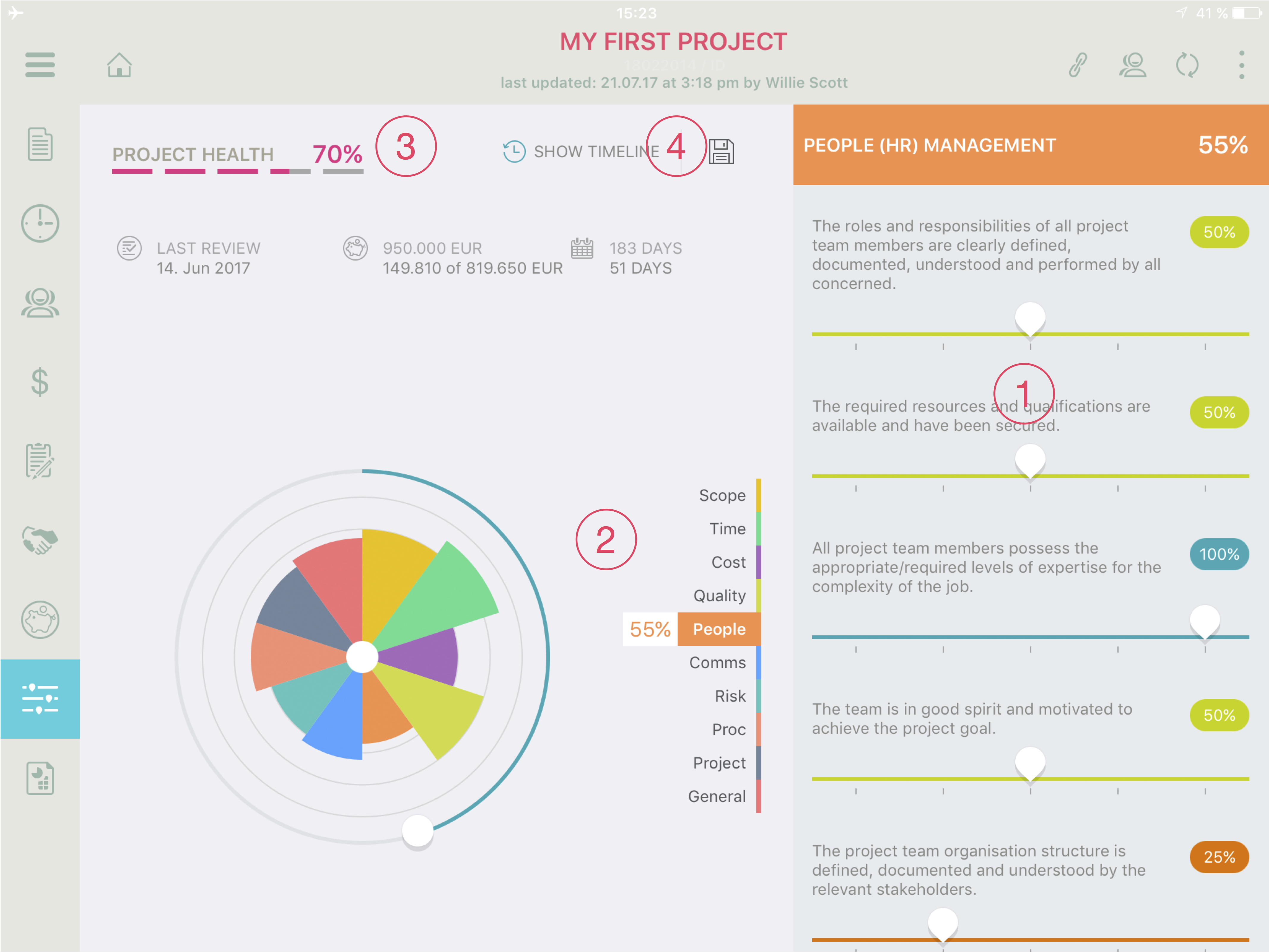 1 Project Questionnaire:
The questionnaire asks you five questions per management dimension that you can answer by using a slider from
0
(not at all addressed) to
100
(fully covered). The assessment is depending on personal perception and thus varies from project manager to project manager.
2 Health Chart: The results of the questionnaire are presented graphically, in form of a pie chart. This give the user instant insight on areas that are well planned and mature, and those which require further detailing and attendance.
3 The Health indicator: The health indicator is the combined percentage health of your project across all management dimensions. It gives comparable indication of the maturity of projects in both the project list and portfolio list. For the percentage health of portfolios, the indicator displays the average health across all projects linked to the portfolio.
4 Project Health Time line: If you are interested in how the health of the project has developed over time, you can tap here to expand the timeline. The timeline is a chart plotting the health scores over the past review dates. Prommpt has an auto-save feature which creates a snap-shot of the project health at any given point where an new assessment is made.
The Project Collaboration Platform.