The project Logbook: Issues, Decisions and Notes
In Prommpts Logbook, you as a project manager can capture issues, decisions and take notes – while in meetings or on-site. You can share all your notes, decisions and issues with the team..
If notes are marked up to be private, these will not be shared with the team buts still are synched to the Prommpt platform in order to document them over time for your eyes only.
Access to the camera and to files allows you to add required information in form of documents, photos or other files like drawings etc.
The Logbook
This is a useful tool to keep track of any issues, decisions or notes.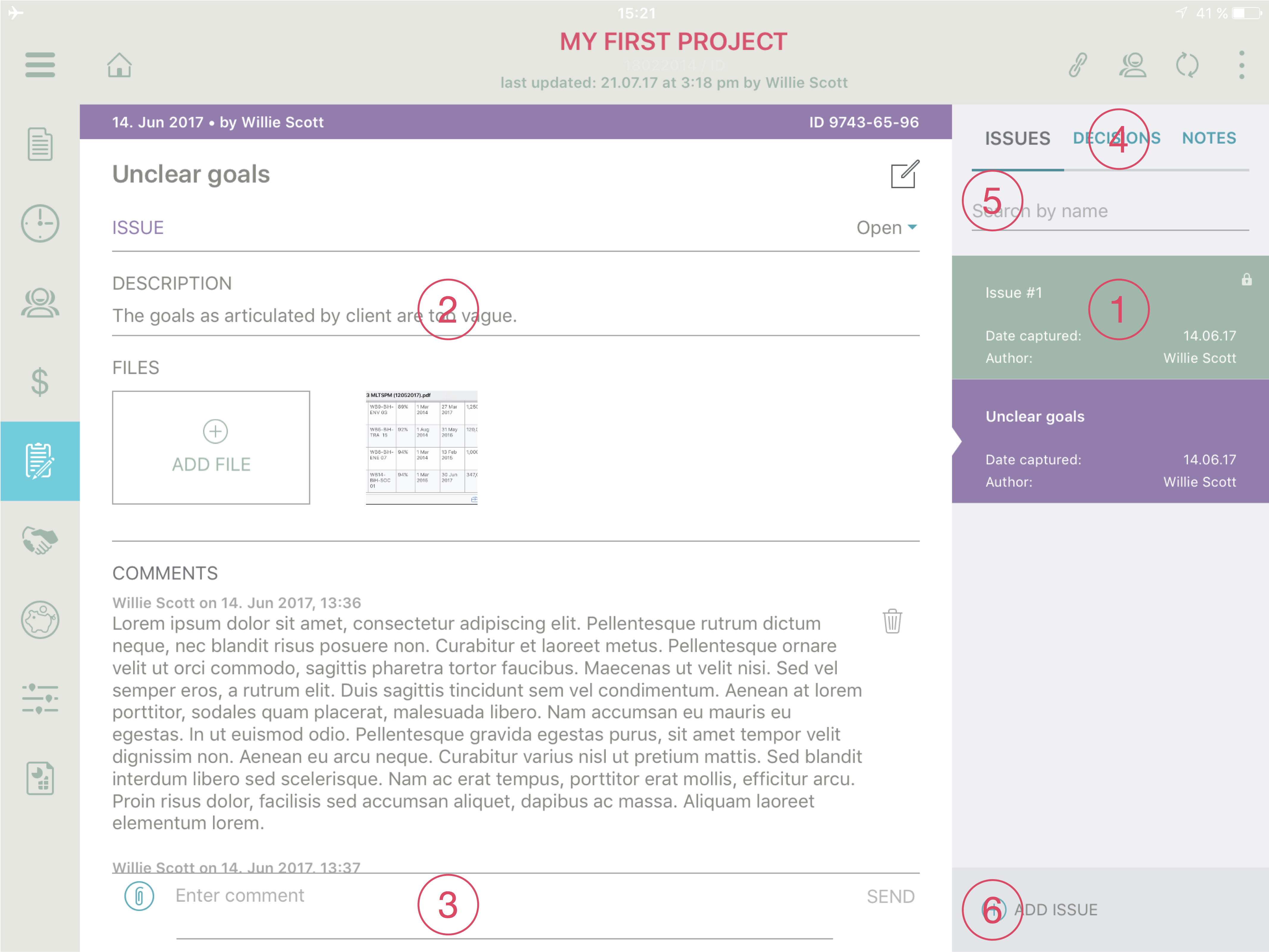 1 Entries: In this pane you keep all your various issues, decisions and notes logs in one spot. Those items marked with a padlock are private and can only be seen by collaborators with admin rights.
2 Description: Provide a concise description of your entry and support it with some files if necessary. Currently, Prommpt only supports images from your camera roll but we are working on the ability to add other formats.
3 Comments: Anybody on your team can contribute by adding comments. This allows you to capture a history and keep a track record of any item.
4 Log switcher: Switch between issues, decisions and notes. The functionality is the same for all of them, except that Issues can have the status open or close. The concept behind these three types is that issues need to be actively addressed and resolved, decisions are captured outcomes that have an influence on the direction of the project and notes can be anything deemed worthwhile to log and discuss.
5 Search: You can search for any log entry by its title.
6 Add: Just tap here to create a new entry to the selected log (issues, decisions, notes).
The Project Collaboration Platform.